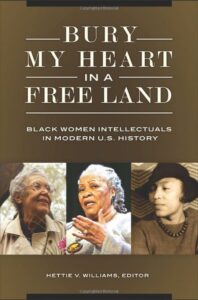 Bury My Heart in a Free Land: Black Women Intellectuals in Modern U.S. History (2017)
Synopsis:
This edited volume of essays on black women intellectuals in modern U.S. history illuminates the relevance of these women in the development of U.S. society and culture. The collection traces the development of black women's voices from the late 19th century to the present day. Covering both well-known and lesser-known individuals, Bury My Heart in a Free Land gives voice to the passion and clarity of thought of black women intellectuals on various arenas in American life—from the social sciences, history, and literature to politics, education, religion, and art.

The essays address a broad range of outstanding black women that include preachers, abolitionists, writers, civil rights activists, and artists. A section entitled "Black Women Intellectuals in the New Negro Era" highlights black women intellectuals such as Jessie Redmon Fauset and Elizabeth Catlett and offers new insights on black women who have been significantly overlooked in American intellectual history.
Reviews for Bury My Heart:
"Here, 14 insightful, scholarly essays, arranged chronologically, provide context to (often lesser-known) African American intellectuals and their effects on U.S. social and academic culture. . . . Consider for academic or large public libraries." - Library Journal

"The women in this collection devoted their professional activities to having their voices heard. . . . The subjects are an eclectic mix, ranging from the well-known Ida B. Wells and Maya Angelou to the more obscure Josephine St. Pierre Ruffin and Wanda Coleman. . . . Summing Up: Highly recommended. Upper-division undergraduates and above." – Choice