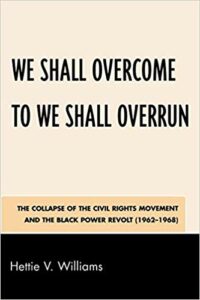 We Shall Overcome to We Shall Overrun: The Collapse of the Civil Rights Movement and the Black Power Revolt (2008)
Synopsis:
We Shall Overcome to We Shall Overrun uses the metaphor of a nervous breakdown to critique the collapse of the American Civil Rights Movement from a historical perspective. Focusing on the years 1962 to 1968, using a topical chronological approach, this work seeks to discuss the major organizations and personalities central to the African American freedom struggle in the 1960s with an emphasis on the debate over the meaning, the means, and the attainment of 'black power.' The five major national groups that made up the civil rights coalition ultimately divided and "broke-down" as concerns of strategy and methodology were compounded by questions of black identity. A nuanced interpretive psycho-intellectual history such as this seeks to redefine our understanding of the American Civil Rights Movement altogether. 
Reviews for We Shall Overcome:
Written with the finesse of an Angelou and the rage of a Giovanni this passionate, revisionist, historical, scholarship will challenge its readers to ask new questions about the nature, role, rise and decline of the Black Revolt of the 1960s. Hettie V. Williams has raised the bar in her narrative and deconstruction of the impact of major voices and organizations involved in the African American quest for freedom, justice, and equality. The advocates for Civil Rights and Black Power are examined thoroughly here. The author is not only scholarly in her approach to narrating the story, but candid and provocative; her voice is a timely and important contribution to the study of American history, Black activism, and Black intellectual thought.
— Michael N. Nash, Professor of African American History, Essex County College, Division of Humanities/Department of History, Author, Islam among Urban Blacks: A Social History

To the many social and political histories of the American Civil Rights Movement, Williams adds a pyscho-intellectual history, focusing especially on how contrasting calls for integration and separation signaled and deepened a division in black identity that the movement was ultimately unable to prevent or heal. She uses the metaphor of nervous breakdown and a topical-chronological format to place the movement during the years 1962-68 within the larger historical framework of the African American struggle for freedom.
— Reference and Research Book News, February 2010